Reveal Digital's new publishing program, announced in April 2022, brings libraries, archives, and institutions of all types together to develop and fund digital primary source collections on civil rights activism. These important historical materials will be freely available to everyone on an Open Access basis.

Program overview
Behind the Scenes of the Civil Rights Movements focuses on unearthing and digitizing the histories of civil rights activism by the everyday citizens of Black, Latine, Indigenous, and Asian American/Pacific Islander communities. The program will include up to four collections, targeted for completion by the end of 2025.
The collections will be made available on an Open Access basis immediately as they are published—freely available to anyone who wishes to use them. They will be hosted on the JSTOR platform, where they'll be cross-searchable with other relevant scholarly content and discoverable by scholars, faculty, and students worldwide. Long-term digital preservation will be provided by Portico, ensuring that these important resources will be available to future generations of scholars.
Collections
The first collection in development will focus on the African American experience and will draw on primary source materials from colleges and universities, historical societies, public libraries, community archives and other institutions. 
The Civil Rights Movement is presently experiencing an important historicizing moment, where scholars and educators are reframing, expanding, and critiquing the dominant narrative of its events and experiences. A great deal has been written about the major players within the movement and their legacies, but little is known about the ordinary Americans who came together to bring about change. This collection will expand the historical record available for study to include previously unknown voices from the front lines of the movement, leading to deeper analysis and innovative scholarship.
These histories are recorded in a range of document types: unofficial letters, correspondence, demonstration plan outlines, transportation logs and plans, meeting minutes, programs from worship services, and photographs. Audio and video recordings such as newsreels, interviews, or musical recordings will also be included.
To explore the importance of this once-hidden content to contemporary scholarship, view our recorded webinar, "Textually Speaking: Narratives of 20th Century Racial Struggle, Resistance, and Resilience Through Primary Sources."
Contributing content
Through this program, participating libraries, historical societies, and community archives will receive the resources they need to digitize collections that would otherwise remain hidden. Upholding these institutions' stewardship and ownership of their collections is a central tenet of the program.
Source libraries and rights holders receive digital copies of images and metadata of all of the material they provide to a collection. Reveal Digital makes no ownership claims to the digitized content; all rights to the content reside with the original rights holders or with the source institutions for out-of-copyright material. Content pages in our collections include links to the rights holders and/or source institutions.
While we are actively approaching a number of archives and libraries to contribute content, we encourage nominations of relevant source materials for inclusion. Learn more about contributing content to this program, or contact Jasmine Wilson, Program Administrator, at jasmine.wilson[at]ithaka.org.
Content contributors
The following libraries, archives, and publishers have agreed to provide source material for scanning. We expect to add many more libraries and archives to this list over the course of the project. Please contact us if your organization has source material that you would like to contribute to the project.
American Baptist College
Ascension Parish Library (Louisiana)
Atlanta History Center
Bowling Green State University
CSU Dominguez Hills Gerth Archives & Special Collections
Grand Valley State University
Indiana University South Bend Civil Rights Heritage Center
National Guardian (William Ryan, former editor)
University of South Florida
Program leadership
This set of collections was envisioned by Carolyn Allen, Dean Emeritus, Professor/Librarian, University of Arkansas and Reveal Digital Executive Committee Member/Consulting Senior Strategist
Professor Allen will lead the development of the program with guidance from a steering committee composed of a diverse group of representatives from research libraries, public libraries, historical societies, and community archives.
Cost recovery goal
Below is a graphical representation of the three-year budget for the Behind the Scenes of the Civil Rights Movements program. The total budget of $2,652,925 is divided into its major cost categories accounting for program staffing, digitization, technology, and long-term preservation. ITHAKA has contributed $150,000 toward the program manager's salary expense, which reduces the cost-recovery goal for external funding to or $2,502,925. See the top right of the page to track progress toward the goal.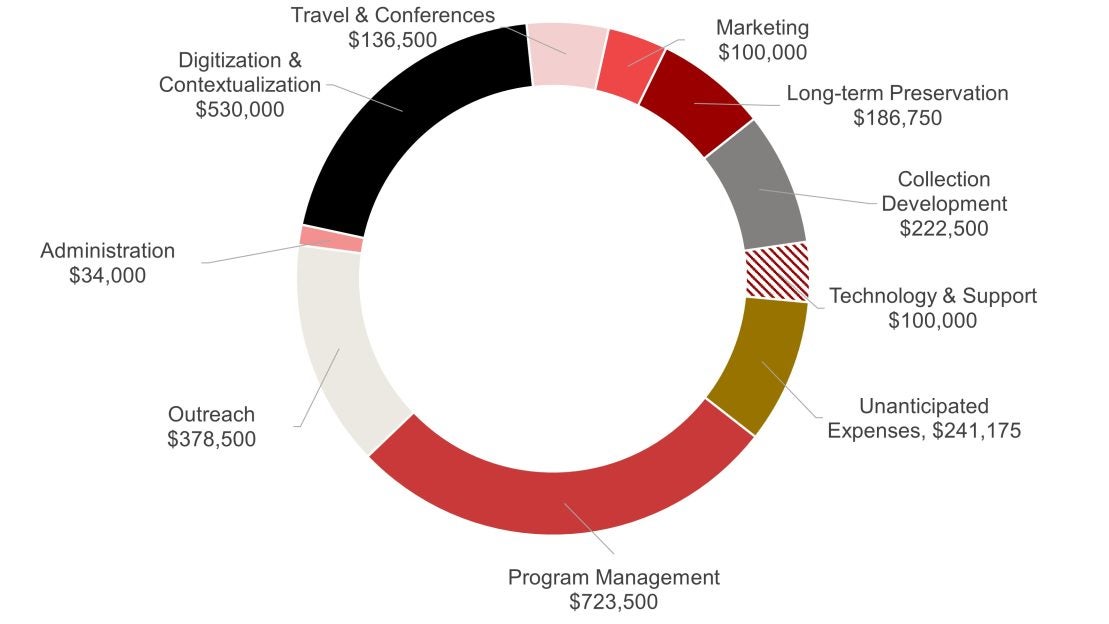 Funding tiers
Libraries are asked to make a one-time contribution toward the program's funding goal, with tiered levels based on library type. Flexible payment options are available, including splitting the full contribution amount over two or three years.
Funding libraries will have access to COUNTER-compliant usage reports, no-cost text and metadata downloads, regular progress reports, and eligibility to serve on Reveal Digital's Executive Committee.
| | |
| --- | --- |
| Library classification | One-time contribution |
| 2-year colleges & special colleges | $7,200 |
| Bachelors and other Masters (M2 + M3) | $10,800 |
| Large Masters and other doctorate (M1 + R3) | $18,000 |
| Doctoral: higher research (R2) | $27,000 |
| Doctoral: highest research (R1) | $36,000 |
For more information about supporting Behind the Scenes of the Civil Rights Movements, contact Peggy Glahn, Associate Director, Reveal Digital, at peggy.glahn[at]ithaka.org.