Overview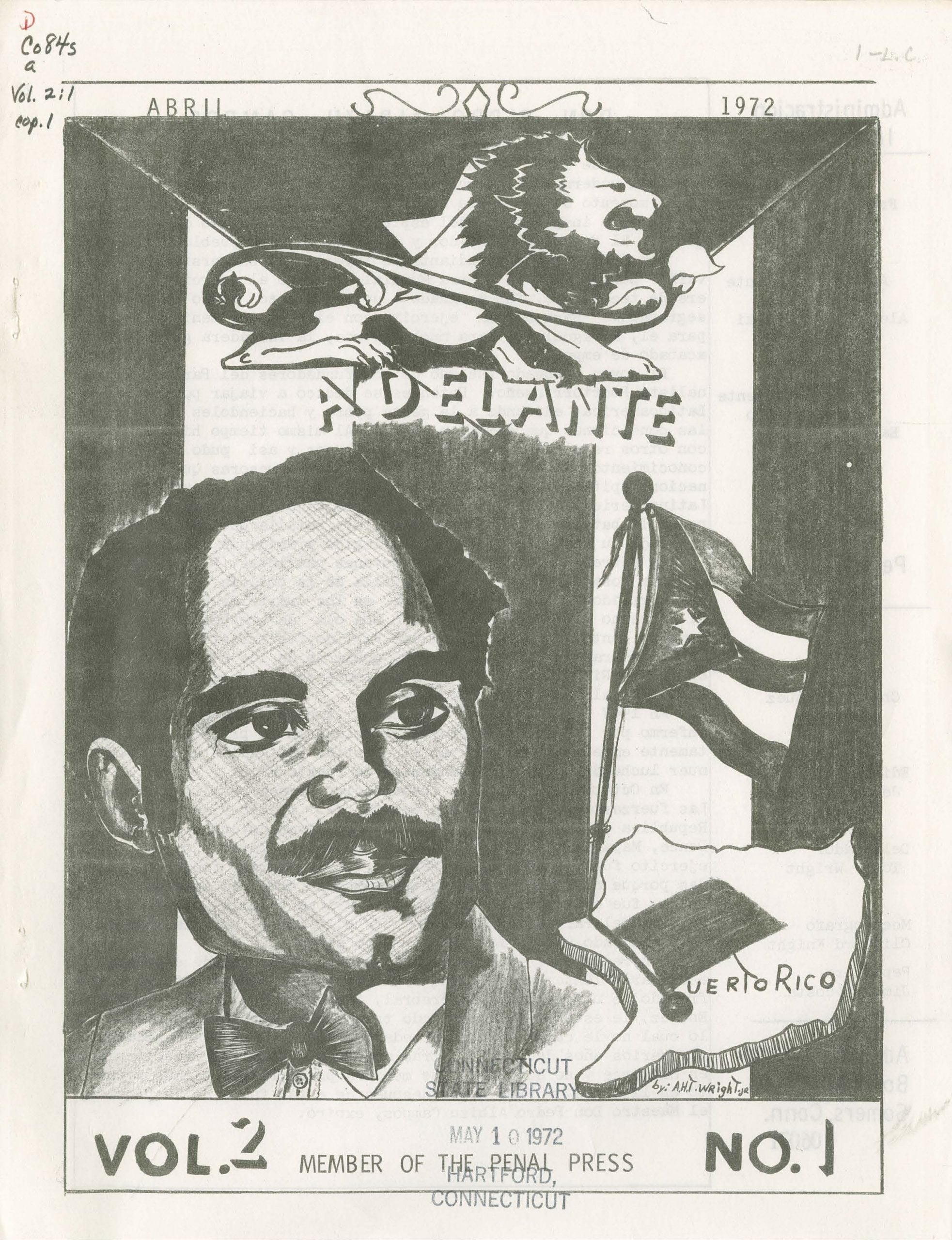 On March 24, 1800, Forlorn Hope was published within a prison in New York state, edited by an incarcerated person. In the intervening 200+ years, over 700 prison newspapers have been published from U.S. prisons in all fifty states. American Prison Newspapers will bring together hundreds of these periodicals from across the country into one collection that will represent penal institutions of all kinds, with special attention paid to women-only institutions.
With the United States incarcerating more individuals than any other nation–almost 2 million as of 2023–these publications represent a vast dimension of media history. These publications depict and report on all manner of life within the walls of prisons, from the quotidian to the upsetting. Incarcerated journalists walk a tightrope between oversight by administration–even censorship–and seeking to report accurately on their experiences inside. Some publications were produced with the sanction of institutional authorities; others were produced underground.
Development of the collection began in July 2020, with new content added regularly. The American Prison Newspapers collection is made possible by libraries that have provided funding to cover the publishing costs, along with institutions and individuals that are opening their archives to provide the source material for digitization. Thanks to their contributions, the collection has been fully open access since July 2021.
Watch featured speakers share more about the collection and about prison journalism:
Open access to the collection on JSTOR
The American Prison Newspapers collection is open access and freely available to everyone who wishes to use it. Libraries can help their users discover the collection by adding it to A-Z lists and incorporating it into research guides in U.S. History, Sociology, Journalism, and Criminology & Criminal Justice. In addition, libraries can activate the collection in the following discovery services: ProQuest Summon, Ex Libris Alma, EBSCO Discovery Service, and OCLC WorldCat Discovery Services.
Privacy
Reveal Digital will undertake diligent efforts to protect the privacy of individuals depicted in the pages of the publications in this collection, and will take steps to notify the individuals and institutions that have contributed to the publications in this collection. If you are a writer, editor, or other contributor to a publication made available as part of American Prison Newspapers and encounter personal information of any kind that should be removed from view, please write to us to request its removal:
Reveal Digital
165 Broadway, 5th Floor
New York, NY 10010
+ 1 212-358-6400
support.revealdigital@ithaka.org
Please include an address or any other contact information at which you can be reached, and we will respond as soon as possible.
Reveal Digital affirms that digitization for American Prison Newspapers is overseen by JSTOR / ITHAKA staff, with a digitization vendor that adheres to standards of fair labor practices. No prison labor is engaged to complete digitization for any Reveal Digital collections.
Feel free to contact us at support.revealdigital@ithaka.org with any further questions about the availability of the newspapers in this collection.
American Prison Newspapers advisory panel
Reveal Digital is developing the American Prison Newspapers collection with the help of an advisory panel representing diverse perspectives from communities impacted by the content. We are grateful for their time and counsel.
Dan Berger, Associate Professor and Director of the Washington Prison History Project, University of Washington at Bothell
Ellen Belcher, Special Collections Librarian, John Jay College of Criminal Justice
William Drummond, Professor of Journalism, University of California, Berkeley, adviser to the San Quentin News, and author of Prison Truth: The Story of the San Quentin News
Marianne Fisher-Giorlando, Angola Museum Executive Committee member, researcher for The Angolite, and professor of Criminal Justice at Grambling State University, emerita
Doran Larson, Professor of Literature, Hamilton College and Director of the American Prison Writing Archive
Kerry Myers, Deputy Director at the Louisiana Parole Project, former editor of The Angolite
Ana Noriega, Assistant Director of Collections Management, Colby College
Robert Pollock, Program Manager, PEN America Prison Writing Program
Philip Vance Smith II, Editor, Nash News
Tony Wallin-Sato, Programs Coordinator for Project Rebound Humboldt State University
Content contributors
The following libraries, archives, individuals,and publishers have agreed to provide source material for scanning. Please contact us if you or your organization has source material that you would like to contribute to the project:
Anne Sadler
Arizona State Library, Archives, and Public Records
Brigham Young University
Bucknell University
Chris Belden
Colorado State Library
Concord Free Public Library
Connecticut State Library
Denver Public Library
Florida State University
Fred Moor
Gary Farlow
Idaho State University Library
Indiana State Library
Iowa State University
Library of Michigan
Louisiana State University
Mabel Gazette H.E.R.O.
Minnesota Correctional Facility-Rush City (Minnesota Department of Corrections)
Minnesota Legislative Reference Library
Mule Creek Post, CA; D. Babbs, editor
Nash News (North Carolina: Editor: Phillip V. Smith)
Nebraska Publications Clearinghouse at the Nebraska Library Commission
New York State Library
Oklahoma State University
Patrick Irving, Founder & Editor, First Amend This!
Prison Action News
Private Donors: Kelsey Kauffman, Eleanor Novek
Project Hope to Abolish the Death Penalty
The Pelican; David Nygen, former editor
State Library of North Carolina
State Library of Oregon
Tulane University
University of Arkansas
University of California, Davis
University of Connecticut
University of Hawai'i
University of Illinois
University of Kentucky
University of New Mexico
University of Oregon
University of Texas, Austin
University of Vermont
University of Washington
University of Washington Libraries
University of Wisconsin
University of Wyoming
West Virginia University
Whitman College
Funding
The costs associated with publishing this important collection have been provided by 64 academic libraries that contributed to the Diversity & Dissent Fund or directly to the project, as well as the Mellon Foundation, which supported the project through a generous $500,000 grant. We are grateful for the participation and support of all the funders and contributors that have made this work possible.
Legal notice
American Prison Newspapers aims to create a faithful digital reproduction of the collective works as they originally appeared in print and pursuant to 17 U.S.C Section 201(c) of the Copyright Act. Please note that if content items in the American Prison Newspapers collection reference permissible terms of use, such as a Creative Commons license, users may make use of such items in accordance with the stated terms of such license as further detailed in the JSTOR Terms and Conditions of Use.