Center for Research Libraries and JSTOR partner to make South Asian historical materials openly available online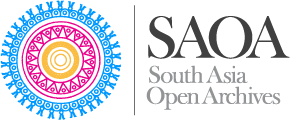 JSTOR and the Center for Research Libraries (CRL) are pleased to announce that collections from the South Asia Open Archives are now openly available on JSTOR, at saoa.crl.edu.
The South Asia Open Archives (SAOA) is a rich and growing collection of historical and contemporary sources in the arts, humanities and social sciences from and about South Asia. SAOA has been made possible through a collaborative grassroots initiative of US research libraries and partners from South Asia and has grown out of the work of the South Asia Materials Project (SAMP), which has been preserving rare and endangered South Asian materials since 1967. Administered by the Center for Research Libraries (CRL), and presented openly online in partnership with JSTOR, SAOA digitally preserves and makes freely available all of its content.
The South Asia Open Archives are made available on JSTOR as part of a new initiative that enables libraries and consortia to host their primary source collections on the JSTOR platform. This arrangement leverages the JSTOR infrastructure to make content openly accessible millions of researchers who use JSTOR, where it becomes searchable alongside the books, journals, and other primary source materials on the platform.
Greg Eow, president of CRL, emphasized the importance of this partnership between CRL and JSTOR. "The launch of SAOA underscores our commitment to enhancing the diversity of research materials on South Asia as well as to fostering open access models for digital content that ensure the widest possible global audience." According to SAOA Executive Board Member David Magier, Associate University Librarian for Scholarly Collections and Research Services at Princeton University, said, "SAOA breaks new ground. It's such an exciting example of how far international collaboration can take us in a non-commercial project to curate and bring out essential and unique content for free global access in support of research and teaching: the highest ideal of the library community."
"We are extremely excited to partner with SAOA and CRL to expand access to these important open access materials for the global research and learning community," said Kevin Guthrie, President of ITHAKA, JSTOR's parent organization. "Students and scholars need access to primary source materials to do great original work. This joint effort will not only make that process more convenient, but will introduce researchers to content they didn't even know existed, thereby opening up gateways to new knowledge."
The South Asia Open Archives includes more than 350,000 pages of content, and will continue to grow. It includes important Colonial-era administrative and trade reports and newspapers dealing with themes of caste and social structure, social and economic history, women and gender, and more. SAOA Executive Board Co-Chair Aruna Magier, Librarian for South Asian Studies at NYU, said, "It is gratifying to have a structure in place that lets us work with scholars to understand their particular research interests, and then pursue partnerships with libraries and archives that hold the resources to fulfill those needs, preserving the fruits of this work and sharing them freely with the world."
About SAOA
South Asia Open Archives (SAOA) is a rich and growing curated collection of key research materials from and about the region of South Asia, with historical and contemporary sources covering a variety of subjects in English and other South Asian languages. SAOA preserves, digitizes and makes its content freely accessible to the world on the web. It is the product of a collaborative grassroots initiative of a broad consortium of US research libraries and partners from South Asia. SAOA is administratively hosted by the Center for Research Libraries (CRL), and is enriched by substantial contributions of content, human and material resources from a community of libraries, research centers, archives and other institutions partnering to bring these resources out for global scholarship and pedagogy. More information about SAOA may be found here.
Contact: Neel Agrawal (saoa@crl.edu)
About JSTOR
JSTOR provides researchers at all levels with journals, books, images, and primary sources in an environment for teaching, learning, and connecting ideas. JSTOR's newest initiative enables libraries to make their special and primary source collections openly available on the JSTOR platform, seamlessly integrated with book and journal literature.