Connect with @JSTORPlants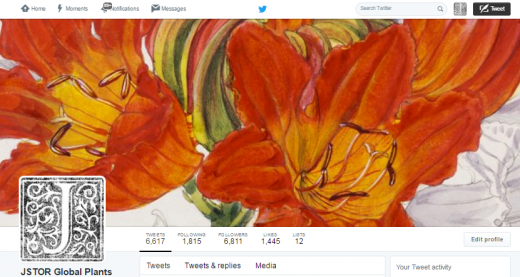 @JSTORPlants on Twitter provides an open channel for discussion with the Global Plants community about all things botanical. Each week we highlight content in Global Plants and promote research and events relevant to the Global Plants partner network. We try to feature and retweet content about our partner institutions, so next time you're tweeting about an awesome event at your institution, or a paper you publish, let us know!
This summer, we're highlighting the non-specimen materials in Global Plants with #GPfeatures. Each week we pick one of Global Plants' fantastic special collections to tweet about. Some features so far have included Rariorum Africanum Plantarum, Burmann from the Natural History Museum (BM), Kew's South Eastern Africa Expedition photos, and Water Colours of Fungi by Fritz Wohlfarth from Botanische Staatssammlung München (M). If you have a specific collection (or part of one of the larger collections) you'd like to see featured, let @JSTORPlants know!