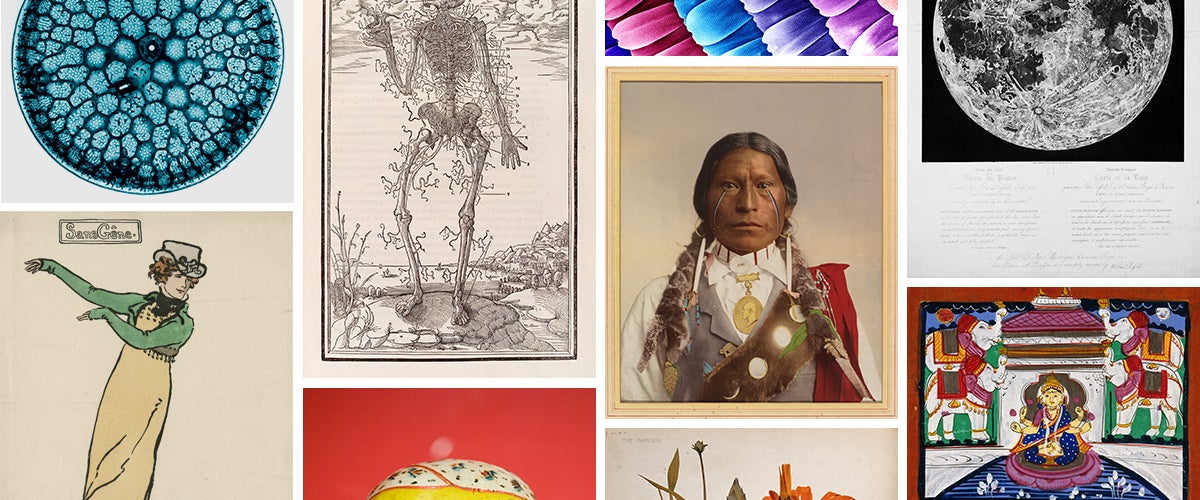 Share your content where research begins
JSTOR's Open Community Collections initiative unlocks the potential of your institution's special collections by making them freely available on the platform researchers, faculty, and students already know and use.
By sharing on JSTOR, your collections will:
Reach millions of researchers around the world
Join the research workflow, integrated alongside relevant books, journals, and primary source materials
Appear in an environment with robust tools that aid discovery, use, and encourage connections for research and instruction
Key benefits
The ideal environment and audience
Your content will be discovered in JSTOR alongside journal articles, ebooks, primary sources, and a rapidly growing number of images from Artstor. All this on a platform designed for and used by more than 81 million scholars and students across 170 countries and territories every year.
Openly available
Your collections will be fully accessible—not behind a paywall or isolated on an unknown site. You can easily and clearly convey terms of use in your metadata and descriptors.
Increased awareness of your institution
Your institution will also have its own portal on JSTOR. The portal facilitates browsing, sub-collection groupings, and searching within your collections. Your institution will gain visibility through attribution, branding, and linking.
A robust platform for research and learning
Your content will benefit from the features of the JSTOR platform and interface, including full-text and OCR-aided search; citation management tools, filtering and faceting; a IIIF-compliant viewer; content download and sharing; as well as innovative research tools such as Text Analyzer and Workspace. And we will provide you with usage statistics.
Explore community collections
Nicaragua Revolution: David Schwartz Collection
David Schwartz's personal collection, containing 140 photographs that display Nicaragua in the late 1970s to mid 1980s, during the Sandinista revolution.
Montgomery Place Campus Collection: Mushroom Drawings of Violetta White Delafield
Annotated watercolors by the late Violetta White Delafield, a registered investigator for the New York Botanical Society and the New York State Museum, and a former resident of Montgomery Place.
Mahmud Ghul Collection
85 photographs by Professor Mahumud al-Ghul, a specialist in South Arabian languages and epigraphy.
Sarra Fleur Abou-El-Haj Digital Photographs
Photographs of well-known Gothic monuments taken by Sarra Fleur Abou-El-Haj while she accompanied her mother, medievalist art historian Professor Barbara Abou-El-Haj of Binghamton University, on a research trip.
Theatre Department
More than 9,000 archival and promotional images from the Binghamton University Department of Theatre's Production Program since 1970.
Brooklyn College History
Items related to the construction of Brooklyn College, the first public coeducational liberal arts college in the city, during the mid-1930s.
Farm Labor Project
An archive of materials collected during the 1943 Farm Labor Project, through which Brooklyn College students were recruited to help with the war effort by picking fruits and vegetables at farms in upstate New York.
The Carleton Miscellany
An archive of Carleton College's nationally acclaimed literary magazine, published quarterly from 1960 to 1980, including essays, poetry, short stories, and more.
Haldore Hanson's China Collection (1937-1938)
Photographs taken in China between 1937 and 1938 by Haldore Hanson, an American, freelance war correspondent.
Central Methodist University Archives
This collection documents the history of Central Methodist University through an archive of over 200 photographs.
Eden Hall Architectural Plants and Drawings
Plans for the creation of Chatham University's Eden Hall, the world's first fully sustainable campus of higher education.
The Minor Bird
Chatham University's archive of their student-led undergraduate literary magazine.
CCNY Anti-war Notices 1934-1936
Ephemeral flyers, newsletters, and news articles circulated at The City College of New York between 1934 and 1941.
Dominican Veterans in World War II
An exhibit of twelve panels, in which photographs, documents, correspondence, newspaper articles, and short biographies tell the stories of Dominicans who served in the U.S. Armed Forces during World War II.
Charles W. Emerson Homestead Collection
114 glass plate negative prints from Emerson College founder Charles Wesley Emerson's summer estate in Rochester, Vermont.
Staff Reports
Final drafts of academic research papers, later published in peer-reviewed journals, written by economists affiliated with the Federal Reserve Bank of Minneapolis since 1968.
Working Papers
A series of academic research paper drafts written by economists affiliated with the Federal Reserve Bank of Minneapolis since 1963.
Magda Vasillov Photographs
More than 150 of the earliest images documenting Hostos Community College/CUNY, taken by Professor Vasillov. Photos portray a community battling poverty, crime, and depression with its right to education.
Tabled Documents Collection 18.3
560 items representing the documental information associated with the proceedings of the Northwest Territories Legislative Assembly, outlining the political, social, and resource governance in northern environments.

Tabled Documents Collection 19.1
35 items representing the documental information associated with the proceedings of the Northwest Territories Legislative Assembly, outlining the political, social, and resource governance in northern environments.
Event Programs
Over 1,600 event programs and cards for cultural events, theatre plays, concerts, commemorations, music and dance performances, and more, in different languages, from 1876 to the present.
Edinburgh Ladies' Debating Society
The complete runs of two Edinburgh journals, The Attempt (1865-74) and its successor, The Ladies Edinburgh Magazine (1875-80). These publications were produced by the Ladies' Edinburgh Debating Society, a leading women's club that existed from 1865 to 1935.
Encyclopaedia Britannica (1768-1860)
The first eight editions of Encyclopaedia Britannica, first issued in Edinburgh, with 143 volumes in total.
Gazetteers of Scotland
20 volumes of the most popular descriptive gazetteers of Scotland during the 19th century, featuring detailed historical and geographical information of each principal place and antiquity.
Scottish School Exam Papers, 1888-1963
A collection of Scottish school exam papers for the very first 'Leavers' certificate, from 1888 to 1963, including circulars for the Scottish Education Department. These papers reflect the development of education in Scotland, reflecting increased state intervention.
Numismatic Collection: Smithsonian National Museum of American History
The Smithsonian's National Numismatic Collection (NNC) contains monetary and transactional objects representing every inhabited continent and spanning more than 3,000 years of human history.
Heinz Gaube Lebanese Architectural Photographs Collection
More than 3,300 black and white photographic negatives and prints documenting traditional Lebanese architecture.
Lebanese Research Center for Migration and Diaspora Studies (LERC): The Lebanese Aboard the Titanic – Paintings Project
A collection of paintings assembled to commemorate Lebanese emigrants who were onboard the Titanic during its maiden voyage.
Archives Negatives Collection
More than 1,100 black and white negatives, produced by the Pratt Institute Photo Lab, depicting campus life at Pratt Institute from the late 1950s through the mid-1970s.
Buildings Image Collection
More than 500 images of campus buildings from the 1890s to present, showing the evolution and expansion of the Pratt Institute.
Prattonia Collection
An archive of yearbooks published by the students of Pratt Institute.
Irving J. Fain Papers
Irving Jay Fain's papers, spanning 1957 to 1965, reflect his devotion to civic and philanthropic activities related to the Rhode Island Fair Housing Bill.
Nancy Elizabeth Prophet Collection
Items related to Nancy Elizabeth Prophet, an American sculptor noted for her work in Paris during the 1920s and 1930s and the first woman of color to graduate from the Rhode Island School of Design.
Rhode Island Postcards
More than 750 postcards of Rhode Island, donated by Louis McGowan.
Travelers in the Middle East Archive
This archive of images, texts, maps, and research and teaching guides focuses on Western interactions with the Middle East, particularly through travels to Egypt during the nineteenth and early twentieth centuries.
Roanoke College Freshwater Fish
A collection of over 800 digitized photographic slides of Virginia's freshwater fish, including geospatial data.
South Kingstown Colonial Records
South Kingston's town clerk office holds records dating back to the late seventeenth century, chronicling slavery, social relations, and material culture of an early American town.
Discover more than 6,000 items in the arts, humanities and, social sciences, from and about South Asia.
Historic Costume Collection
An archive of over 3,000 objects of women's clothing and accessories from the United States, 1800 to present.
Rotman Stereograph Collection
A reproduced set of stereoscope cards from the Andrew Rotman collection, originally published as "India Through the Stereoscope," including photos taken between 1891 and 1900.
Van Buren Antiquities Collection
This archaeological study collection consists of nearly 135 objects from ancient Greece and Italy, including vases, bronzes, glassware, and other antiquities.
Street Art Graphics Digital Archive
More than 3,000 stickers that address the personal and political, the mysterious, and the mundane, featuring items from over forty countries, with the earliest U.S. pieces dating back to the 1910s.
Philadelphia Postcards
20th-century postcards focusing on the built environment of the Greater Philadelphia region.
Textile Industry Postcards
340 items related to the social, technological, and economic development of the textile industry in the United States, featuring trade and dyeing catalogs, business records and personal papers, advertising materials, and more.

Textile Trade Cards
Victorian Trade Cards (1880-1900) dealing with processes and products pertaining to the textile industry.

Textile Woodblocks
More than 330 textile-printing blocks likely created from the mid to late 19th century into the early 20th century, with motifs ranging from traditional Indian designs to those created for the Western market.
British Theater Playbills
A collection of nearly 400 18th- to 19th-century playbills for theatrical performances in London and in other English towns.
George Watson Cole European Postcards
A collection of 10,000 postcards from pre-World War I Europe, collected by renowned librarian George Watson Cole during his travels.
Hartford Collection
More than 1,500 images of people, places, and events related to the city of Hartford, Connecticut and its history, mostly stemming from the photographic archive of a now-defunct local newspaper.
Webster Collection WWI Photos
World War I photographs taken in Germany, including Red Cross, military, and prisoner of war activities.
Alumni Association of the Philadelphia General Hospital School of Nursing
This collection of over 1,300 images from the 1880s to the 1970s, offers a glimpse into the broad spectrum of activities of nurses and other health care providers, the buildings and settings used, and the patients cared for within the institution.
Etta Winigrad Sculptures
A collection dedicated to Philadelphia artist and Penn graduate Etta Zuritsky Winigrad's thought-provoking sculptures that reflect her focus on humanity in the world.
Furness Theatrical Images Collection
Over 2,700 prints and photographs dedicated to the study of Shakespeare and his contemporaries during the English Renaissance and Shakespearean theatrical presentations.
Lenkin Family Collection of Photography
Over 5,000 original photographs, primarily of Jerusalem and Palestine taken from 1850 to 1937, display the architecture, topography, and archeological exploration of the Holy Land.
Marian Anderson Collection of Photographs
A collection of more than 4,000 images of renowned singer and Philadelphia native Marian Anderson and her mileu.
Philip H. Ward Collection of Theatrical Images, 1856-1910
This collection of 573 items, contains mostly photographs of actors, actresses, and other performing artists posed by professional photographers working in New York, London, and Paris.
Fine Arts Collection
Artwork included in this collection are of historical and cultural import, acquired from Wofford College's foundational days in the mid-nineteenth century to present day.
The Lindsay Webster Collection of Cuban Posters
Nearly 350 works created in Cuba from the revolution through the 2000s. Posters focus on Cuba's efforts to spread messages of the revolution worldwide and to inspire others to fight against oppression stemming from the legacies of imperialism and colonialism.