The Blessing of the Animals: An Artstor Bestiary
October 4 is generally recognized as the feast day of St. Francis of Assisi, patron of the animals, steward of nature, and author of the Canticle of the Creatures.  In a divinely ordained cosmos, Francis considered all elements – sun, moon, and stars, water and fire, and the animals – our sisters and brothers, and he is often depicted and described preaching to the birds, as in Giotto's panel shown here, 1295-1300.  The cathedral of St. John the Divine in New York famously marks his feast day with the blessing of the animals.  Thousands of creatures, from tortoises to camels, process though the nave, gather in the yard, and are blessed by clergy.  This scene is replayed throughout churches around the globe, a celebration of the beasts that surround us and enhance our lives.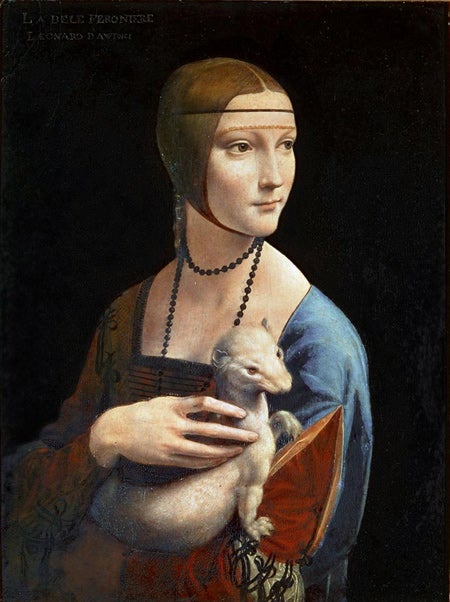 In honor of this day, we invite you to explore the Artstor bestiary, a virtual menagerie as diverse as the animal kingdom itself, where our pets and companions are presented with majesty and poignancy. Leonardo's sleek, muscular and somewhat enigmatic ermine poised on the slashed sleeve of Cecilia Gallerani, the young mistress of Ludovico Sforza, communicates both the purity of the sitter and the power of Sforza, and was in fact the coveted pet of high Renaissance aristocrats, c. 1490.  In striking contrast, Milton Rogovin's photograph of a working-class couple and their rabbit taken some 500 years later, glows with sheer pride and pleasure.
The dangling rag-doll of the couple's affection is the antithesis of Durer's monumental and composed hare, 1502, a likeness that has come to epitomize the family Leporidae.
The horse, our closest ally in work and in play, is immortalized in imposing portraits such as Stubbs Whistlejacket, 1762, and in depictions like Castiglione's (known in his adopted home country of China as Lang Shining) scroll, a historical narrative of tribute – three splendid Kazakh horses being offered to the Chinese emperor, 1757.
Lest we forget our best friend the dog, George Stubbs' curly-haired pooch is the earnest distillation of dogged devotion and purpose, and he stands in for the hundreds of canines in the Artstor Digital Library.
Felis catus, arguably our longest-standing companion, must not be overlooked.  While her legendary stealth is parodied in a 13th-century bestiary illumination depicting thieving cats tiptoeing off with birds and mice (and strangely human faces with sheepish expressions), it is celebrated in Ôide Tôkô's study of patient pursuit and his apparent pleasure in the replication his sitter's luxuriant coat, Meiji period (1868-1912).
On the wilder side of the felids, lions, tigers, cheetahs, and leopards abound, as for example, in the enchanting and whimsical Lion's Court, a Mughal miniature by Farrukh Chela, c. 1596.
For more scientific interpretations of exotic fauna, the collected renderings from Cook's Voyages to the South Seas offer up splendid specimens like Forster's King Penguin of 1775, one among hundreds of finely delineated feathered, finned and furred beasts.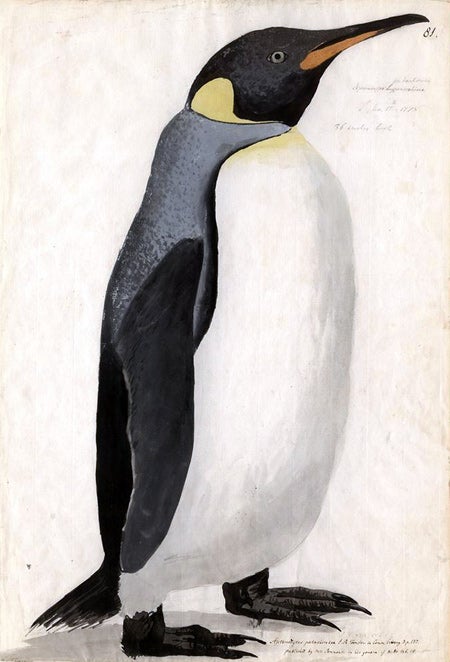 Should you wish to compile your own bestiary, we suggest you mine the following collections in the Artstor Digital Library:
Magnum Photos, and Panos Pictures, for a wide range of photographs depicting pets and their humans, as well as animals in the wild.
Cook's Voyages to the South Seas, Natural History Museum, London, featuring hundreds of botanical and zoological illustrations gathered from the three exploratory missions of Captain James Cook.
First Fleet Collection, Natural History Museum, London, illustrations of flora and fauna from the First Fleet expedition to Botany Bay, Australia, under Joseph Banks.
Hill Ornithology Collection (Cornell University Library), including a complete edition of Audubon's Birds of America, double-elephant folio.
Manuscripts and Early Printed Books (Bodleian Library, University of Oxford), for illuminated beasts and the fantastic creatures of the marginalia.
Peabody Museum of Natural History (Yale University), including hundreds of images of natural specimens.
Yale Center for British Art, with images from Paul Mellon's comprehensive collection of British animal painters.
For masterworks featuring animals, browse the collections listed below which feature paintings and sculpture from international museums, as well as those of individual museums in the Artstor Digital Library, as, for example, The Metropolitan Museum of Art, The National Gallery, London, the Rijksmuseum, and many others.
Art, Archaeology and Architecture (Erich Lessing Culture and Fine Arts Archives)
Italian and other European Art, Scala Archives
Lukas – Art in Flanders including The Royal Museum of Fine Arts, Antwerp, and many other Flemish institutions.
Réunion des Musées Nationaux, including The Louvre and other national and regional museums of France.
For broader considerations of nature and our environment, see also the History of Medicine and Natural Science (Browse by Featured Group > Interdisciplinary Topics > History of Medicine and Natural Science) and Environmental Studies (Browse by Featured Group > Interdisciplinary Topics > Environmental Studies) in our Featured Groups.
You may also be interested in Travel Awards 2011: Picturing Animals and Arnold Genthe–cat photographer?