New in Artstor: sample lesson plans for K-12 teachers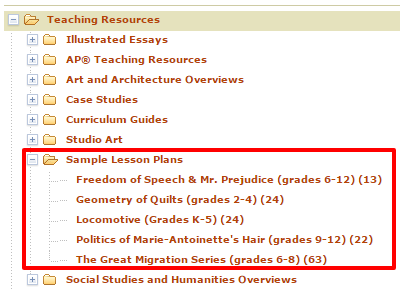 Hearing the call from Artstor teachers for sample lesson plans, we revisited some favorite lessons from our teaching days and borrowed from JSTOR Daily and the Philadelphia Museum of Art's School and Teacher Program. The results, covering a variety of subject areas and grade levels, can be found in Artstor's Teaching Resources.
Jacob Lawrence, The migration gained in momentum, 1940-41. Image and original data provided by The Museum of Modern Art. © 2008 Estate of Gwendolyn Knight Lawrence / Artists Rights Society (ARS), New York
For grades K-5 social studies, we gathered images and created a flexible lesson plan based on Brian Floca's book Locomotive. Images on the transcontinental railroad and 19th-century travel including maps, historical photographs, and paintings all bring this amazing time in United States history to life for students. These images can be used to expand on Floca's illustrations as teachers actively read and explore the book with students.
For grades 2-4 mathematics, we curated  a group of quilts with polygonal shapes from Artstor's many collections of textiles. The zoom feature is especially helpful with this lesson since it allows students to see the shapes that make up the blocks forming the optical effects of each quilt. This lesson, inspired by the work of Megan Hess at the Germantown Friends School in Philadelphia, even includes an activity where students make their own paper quilts with colored triangles and squares.
Freedom of Speech & Mr. Prejudice
This lesson is adapted from a Picturing America lesson created by the Philadelphia Museum of Art. We included additional works by Horace Pippin and Norman Rockwell and gathered images of each artist at work. The starkly different representations of segregated America during World War II provide a helpful lesson in both US history and visual literacy. This lesson is adaptable for students in grades 6-12. It includes extensions for visual arts and advanced high school students. The four Freedom paintings by Rockwell, each accompanied by a different poem as they famously appeared in the Saturday Evening Post, are reproduced clearly enough to be projected in class. The ability to practice close reading of text and image side-by-side makes this a fantastic use of primary sources in the classroom.
The Political Power of Marie Antoinette's Hair
The implications of a queen's hairstyle were recently analyzed at JSTOR Daily, inspiring our sample lesson plan for high school students in the social studies classroom asks them to think about physical appearance as a statement of power. We brought together a variety of images of Marie-Antoinette and other powerful women in history. The essay by Erin Blakemore in the Daily becomes a point of departure for larger issues of the politics of appearance.
We are fortunate to have Jacob Lawrence's entire Great Migration series in the Artstor Digital Library to use as a point of departure for middle school students to examine causes and effects of African Americans moving in large numbers from the south to the north during the early 20th century. This lesson can be used across the curriculum because it is adaptable to language arts, social studies, and visual arts.
– Dana Howard, Senior Education & Outreach Manager for Secondary Schools