How do you browse millions of images?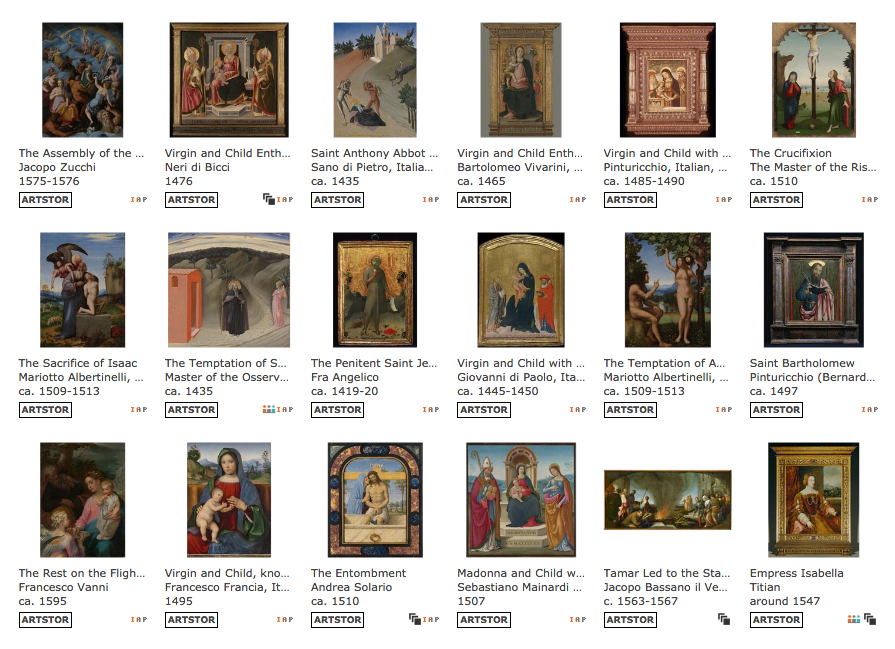 With nearly 2.5 million images making up 300 collections in Artstor–plus hundreds more public collections–where does one begin browsing in Artstor?
Browsing images may not seem like the best way to find an image, especially if you are looking for something specific. However, browsing allows you to serendipitously discover images you might not find with a more focused search. Next time you're working in Artstor, try some of these techniques and see what you discover:
Use Advanced Search without entering a term
You can conduct an advanced search without entering any terms, instead limiting your results by date range, classification, and geography. This allows you to view all the results in Artstor in a given time period. If you are interested in browsing Italian Renaissance sculptures in Artstor, you could put in the rough date range of 1400-1600 AD, limit the geography filter to Italy, and check the sculpture classification. Once you've conducted your search, you can browse through the resulting set of images and make interesting discoveries.
Keep in mind that Artstor's geography is based on the creator's place of origin–with the exception of architecture, which is based on the location of the structure–and does not allow you to search for works by a location depicted within. Conducting an advanced search without entering a term and selecting "France" for the geography filter and "Photography" for the classification, will yield photographs created by French photographers–not strictly photographs depicting France.
Browse entire collections
You can view each collection in Artstor as a whole, allowing you to browse the entire collections of museums, libraries, archives, scholars, and artists and their estates as represented in Artstor. To view collections from Artstor Digital Library's core collections, go to Browse > Artstor Collections, which will automatically bring up a list of the nearly 300 different contributed collections. You can also view a list of all the publicly available collections in Artstor by going to Browse > Public Collections.
Browse by classification or geography
You can also view all the images of works by creators from a particular country, or images of a particular type (such as paintings, photographs, manuscripts, or maps, charts, and graphs) by browsing Artstor images by classification or geography. Go to Browse > Artstor Collections, then select either geography or classification to browse images from Papua New Guinea, Uzbekistan, and more–or simply to view all of Artstor's garden and landscape images.
Browse Artstor's Teaching Resources and their associated tags
Artstor curates hundreds of image groups covering topics in the arts, humanities, and social sciences. You can find them by going to Browse > Artstor Collections, and then selecting the "Teaching Resources" option. View images grouped by topics such as African mosques, capitals across cultures, British romantic poetry, climate solutions in the Islamic world, and more.
Happy browsing–and let us know if you find anything interesting!