Back to school, REALLY!
Our collective experience of lockdown and isolation during the past 18 months makes the prospect of this coming school year particularly exciting. And while nothing compares to the delight of face-to-face conversations with instructors and fellow students, there is still digital research to be done! We have good news on that end.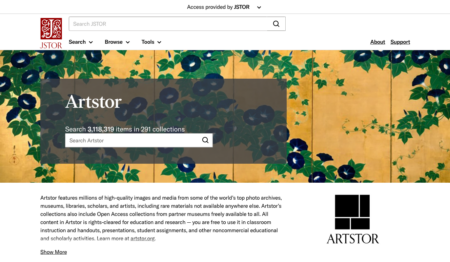 Our biggest news is that you can now access Artstor's content on JSTOR! In addition to the high-quality images you know and love from Artstor, on JSTOR you can also find an ever-growing number of images and special collections from libraries around the world, not to mention academic journals and books on every imaginable topic.
If you're looking to start off the year strong, round out your workflow by combining images with other primary sources and scholarship. You'll strengthen the depth and quality of your research, make innovative connections, and spark unexpected discoveries. Want to see what we mean? We gathered six examples in which the scholarship on JSTOR and the visual materials on Artstor connect for a richer research and teaching experience.
In other Artstor news you may have missed this summer, we released nearly 5,000 images from Magnum Photos, including hundreds of photographs recording both the universal effects of the pandemic and a wave of domestic and worldwide protest stirred by the murder of George Floyd in Minneapolis.
We wish you a fruitful semester, whether you're attending school in person, remotely, or maybe outdoors, like the students in this undated photograph from the Bucknell University History collection in JSTOR. Stay tuned for collection announcements and updates to come as we make our way through the new academic year.