A new, easy way to browse through Artstor's Teaching Resources
Good news: You can now access all of Artstor's Teaching Resources through the Artstor Digital Library's Browse menu!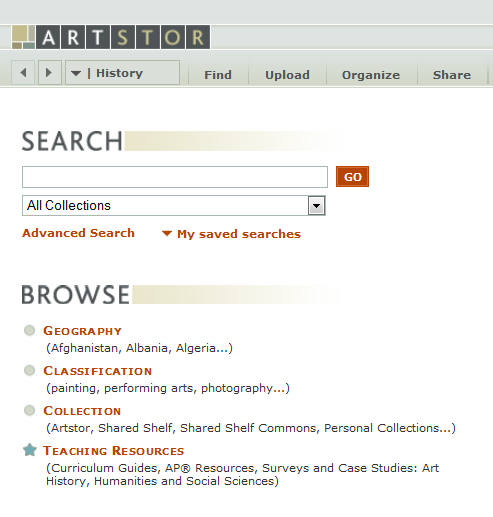 All three of our AP® Teaching Resources–for Advanced Placement courses in Art History, European History, United States History–as well as our Curriculum Guides, Case Studies (from our Travel Award winners), and our popular surveys of selected images for Art, Architecture, and other Humanities and Social Sciences topics are all easy to browse under Teaching Resources on the Artstor Digital Library home page.
The file structure of the Browse menu should look familiar. Click on the + sign next to each folder to open a world of teaching tools. Once you have chosen a group to explore, use the back button on the navigation bar to return to the menu.
You can still do all the things you could do before with these image groups, such as saving the entire group as one of your own for easy editing, choosing selected images for your own image group, and sharing with students to view on a computer or mobile device.
For more info on browsing, visit the Artstor Digital Library support site.