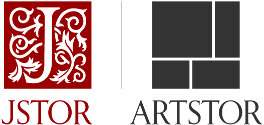 Content usage in 2019

231 million
article views
and downloads

7 million
images viewed

252 million
content accesses

21 million
ebook chapter views
and downloads

262 million
searches on JSTOR
As in previous years, we see that JSTOR's top used journal articles and book chapters of 2019 are a mix of current trending topics and old articles, accentuating the value of JSTOR's complete archival coverage.
Content growth in 2019
JSTOR and Artstor continuously work with publishers, museums, scholars, artists, and others to make their content discoverable.
Added in 2019
60 journals
15,000+ ebooks
including 1,300 Open Access ebooks
9 Artstor collections
Total now available
2,700+ journals
85,000 ebooks
2.5 million core collection images
615,000+ Open Artstor images
Popular webinars
Our most popular webinars of the year went beyond basic research, with a broad selection of content appealing to faculty and librarians. Remember, we post new webinars regularly, and they can be watched live or as recordings.
Marcie Kaufman, Counsel at ITHAKA, discusses how US law determines whether a work is in copyright or in the Public Domain, and  introduces tools, including our new Copyright Checkpoint, for helping users determine the copyright status of images, books, journals, and other textual materials.
Ever wish there was more collaboration at your school? Wendy DeGroat, librarian at Maggie L. Walker Governor's School in Richmond, Virginia, explores various techniques that foster collaboration with colleagues to improve student success.
Read tips from participating educators
This webinar highlights several features of JSTOR that can help students build search skills and craft better research strategies.
Join us for a review of basic guidelines for working with images in research and education, such as determining if an image is under copyright, understanding the permitted uses of the images you find in Artstor's free, publicly available collections, as well as how Artstor's copyright-cleared subscription-based collections can make your work with images easier.
Digitizing Arabic-language scholarly content presents a number of challenges: how can it be done cost-efficiently, accurately, and at scale? Join ITHAKA's Anne Ray and John Kiplinger with Matt Miller from the Open Islamicate Texts Initiative as we discuss our approach and findings, contextualize them in the broader landscape of Arabic-language scholarly publishing and licensing, and report on some areas for further research.
Read the white paper
Download the resources PDF
New and expanded initiatives
We continue to increase access to education and research around the world, broadening our free and open content, creating helpful tools, and introducing a program in which institutions can make their collections openly available.
JSTOR and the Center for Research Libraries (CRL) have made the South Asia Open Archives (SAOA)—a rich and growing collection of historical and contemporary sources in the arts, humanities, and social sciences from and about South Asia—openly available. This is the first in a new initiative for institutions to host their open primary source collections on JSTOR.
Open Artstor
Artstor is making an increasing amount of Creative Commons-licensed museum, library, and archive collections selected for their value to the humanities and sciences freely accessible to everyone on its platform—already a destination for scholars using visual media.
New this year:
Copyright is complicated, so we made a tool to help! Answer a few simple questions and examine the rights status of images and text in your collections.
JSTOR and ITHAKA S+R are collaborating with a small cohort of prison programs to understand the challenges of learning in prisons and to pilot new, creative mechanisms to make the published scholarly literature on JSTOR available for use in prison education.
Social media
Like the most-used content in JSTOR, our two most popular tweets of the year also span through eras, celebrating and deconstructing musical icons from two generations.
Kurt Cobain would have been 52 today. He was "the spokesperson for a subculture with nothing to claim for its own but angst, fear and disaffection" and his "music and lyrics spoke (loud) volumes about the troubled society we live in."https://t.co/zNhnmvuDUQ pic.twitter.com/Y0j5aKJScm

— JSTOR (@JSTOR) February 20, 2019
Judy Garland was born today in 1922! https://t.co/EN0Cvb4GXv

— JSTOR (@JSTOR) June 10, 2019
JSTOR Daily
In "Why Aren't We Curious About the Things We Want to Be Curious About?," The New York Times recommends JSTOR Daily, writing "If you wish for more serious reading when you surf the web… You just need to frequent better foraging grounds."
Top 10 stories of 2019