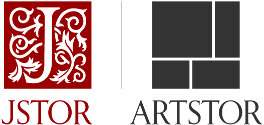 Expanding content
JSTOR and Artstor continuously work with publishers, museums, scholars, artists, and others to make their content digitally discoverable.
Added in 2018
100+ journals
12,000 ebooks
15 Artstor collections
Total now available
2,700+ journals
65,000 ebooks
2.5 million* images
Usage in 2018
We help scholars explore a wide range of academic content through the powerful and trusted JSTOR and Artstor platforms.

80 million
articles downloaded

127 million
articles viewed

7 million
images viewed

160 million
content accesses

13 million
ebook chapter views
and downloads

131 million
ebook and journal
searches
Platform enhancements
JSTOR and Artstor rolled out streamlined platform designs and new features to make searching, browsing, and viewing content easier.
JSTOR
Our award-winning Text Analyzer is now multilingual
Open Access and free content is now easily discoverable at jstor.org/open
Our self-directed Research Basics course is easier to use and accessible without registration
My Workspace is now easier to organize
Data for Research has been improved
Using Register and Read has become easier–no more shelves!
The text viewer for journal articles now offers improved previews and the ability to enlarge
We now support NoodleTools citation export
Artstor
New offerings and initiatives
Artstor search on JSTOR
Open Access on JSTOR
JSTOR Security Studies
JSTOR Lives of Literature
The JSTOR Understanding Series (Beta)
*Image totals may vary from country to country depending on the specifics of international copyright.